Irish Restaurant Awards 2018 – Nominate Bow Lane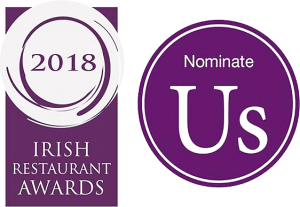 Nominations are now open for the 2018 Irish Restaurant Awards
Chef Gavin McDonagh has transformed the food in Bow Lane since his arrival in autumn of last year. New dishes showcasing the finest Irish produce and delivered on the plate in his inimitable style and with taste at the forefront.
We would be delighted if you could take a short time out and nominate Bow Lane in the following categories:
Best Cocktail Experience
Best Gastro Bar
Best Chef (Gavin McDonagh)
Best Restaurant Manager (Matt Dillon)
To nominate just click on the button which will take you to the Irish Times online voting form.